Blue Crown
Passiflora caerulea
This beautiful, fast growing vine produces spectacular, bluish-white flowers which begin blooming in July and continue until hard frost. Blue Crown is hardy to about 12º F.
9262
Jeanette
Passiflora 'Amethyst' x caerulea
This unique variety features profuse, striking, large flowers with alternating white and mauve petals. A vigorous vine, Jeanette will quickly cover an arbor or trellis. Jeanette can be grown in the ground or as a container plant and brought inside in the winter in colder regions. Jeannette is hardy to about 20°F.
9274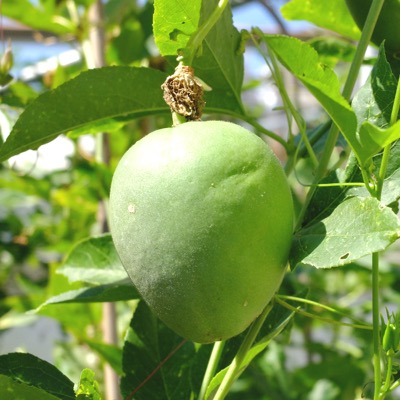 Maypop
Passiflora incarnata
This attractive and very hardy perennial vine features abundant, showy, pinkish purple flowers from July until frost. Following the flowers are greenish yellow fruit with the delicious and sprightly taste of tropical Passionfruit. Maypop can be grown where temperatures fall as low as minus 20°F.
9277
White Crown
Passiflora caerulea 'Alba'
This unusual and attractive form of Blue Crown Passionflower is prized for its pure white flowers, which distinguish it from its cousin. White Crown is hardy to about 12 ºF.
9253